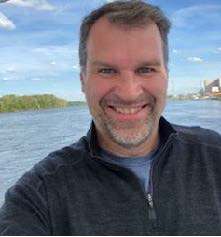 Mathew Lindeman
  Ad Hoc Member - Winona
  Occupation: Professor of History at Winona State University
  Hobbies: Orienteering, Trail Running, and Nordic Skiing 

Matthew has long been interested in the history of parks, trails, and public lands. This has led to a course he created and teaches at Winona State University: "The History of Parks, Monuments, and Public Lands." He can also remember quite visibly voting for the Legacy Amendment and thinking how great it was to live in a state with such an initiative on the ballot. At this point in his life/career, he would like to share his energy and positive vision in a way that links both the local stewardship of parks and trails to the greater Minnesota/regional vision. He believes this is an exciting format that brings together many of my own interests, but more importantly, it is an opportunity to be a part of something bigger that benefits many Minnesotans.