Owatonna City and Fireman's Hall: Roof & Masonry Assessment
Project Details by Fiscal Year
2017 Fiscal Year Funding Amount
$9,761
Fund Source
Arts & Cultural Heritage Fund
Recipient
City of Owatonna
Recipient Type
Local/Regional Government
Project Details: 2017 Fiscal Year
2017 Fiscal Year Funding Amount
$9,761
Other Funds Leveraged
$161
Number of full time equivalents funded
0
Proposed Measurable Outcome(s)
Measurable Outcome(s)
All of short-term goals have been met with assessments, drawings and scope of work completed.
The intermediate goal of planning for repairs is underway. More meetings need to take place between administration and staff.
The long-term goal of adding projects to capital planning is underway.
Source of Additional Funds
Recipient Board Members
Les Abraham, Jeff Okerberg, Kevin Raney, Nate Dotson, Greg Schultz, Dave Burbank, Brent Svenby
Project Overview
To contract with qualified professionals to prepare construction documents for the preservation of the Owatonna City and Fireman's Hall, listed in the National Register of Historic Places.
Project Details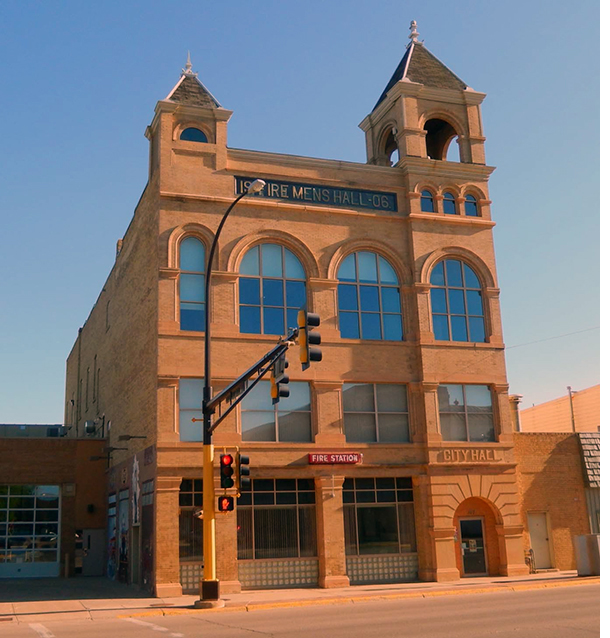 Constructed in 1907, the rectangular three-story Owatonna City and Fireman's Hall building faces the city square to the north. The structure was individually listed on the National Register of Historic Places in 1997.
The City of Owatonna is establishing rehabilitation requirements for the exterior masonry and the two towers and applied for funding to create plans and specifications for roofing and masonry repairs to the Owatonna City and Fireman's Hall. The very visible and well-used public building is still a functioning firehouse and houses other critical emergency response departments. The assessment will be used to set the scope of work and guide the construction document process.
Project Manager
Organization Name
City of Owatonna
Street Address
540 West Hills Circle
Email
jesse.wilker@ci.owatonna.mn.us
Competitive Grant Making Body