Mitchell Saloon Renovation & Stabilization
Project Details by Fiscal Year
2020 Fiscal Year Funding Amount
$48,750
Fund Source
Arts & Cultural Heritage Fund
Recipient Type
Local/Regional Government
Project Details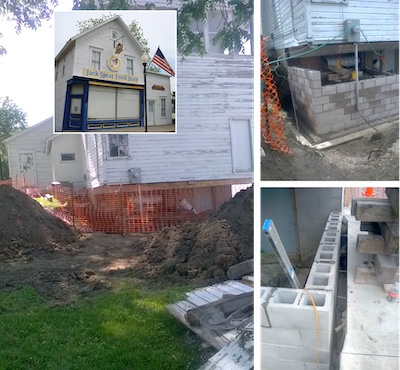 This project to protect the building and museum collection from water intrusion/damage and for structural stabilization there were four primary components to this first-phase restoration project. Historically appropriate galvanized gutters and rainwater conductors to direct water away from the facade and sides of the building were installed. The wood foundation system below the back porch was replaced with concrete block to just above grade. New micropile piers were installed to prevent frost expansion upheaval under the "Barbershop/school museum."
Mitchell Saloon (now Ed's Museum), dates to 1876, is the oldest contributing building in the Wykoff Commercial Historic District, and the oldest remaining wood structure in the city of Wykoff. During the 1930s & 40s, it operated as a Jack Sprat Grocery store. As a museum, it houses a collection of Jack Sprat grocery items and restored to period 1940s era upstairs living quarters. 
Competitive Grant Making Body
Board Members and Qualifications
Visit https://www.mnhs.org/about/leadership
Advisory Group Members and Qualifications
Visit https://www.mnhs.org/preservation/legacy-grants/advisory-committee
Project Details: 2020 Fiscal Year
Legal Citation / Subdivision
MN Laws 2019 Special Session Chapter 2, Article 4, Section 2, Subdivision 4 Historical Grants and Programs
Appropriation Language
$5,846,000 in fiscal year 2020 and $7,004,000 in fiscal year 2021 are for statewide historic and cultural grants to local, county, regional, or other historical or cultural organizations or for activities to preserve significant historic and cultural resources. Money must be distributed through a competitive grant process. The Minnesota Historical Society must administer the money using established grant mechanisms, with assistance from the advisory committee created under Laws 2009, chapter 172, article 4, section 2, subdivision 4, paragraph (b), item (ii).
2020 Fiscal Year Funding Amount
$48,750
Other Funds Leveraged
$8,250
Number of full time equivalents funded
Proposed Measurable Outcome(s)
Source of Additional Funds
Recipient Board Members
Sally Affeldt, Shirl Boelter, Carolyn Baker Meyer, Lori Weisinger, Maggie Ramaker, Jeff Erding, Mary Sackett
Project Manager
Organization Name
City of Wykoff
Street Address
217 Gold St. N, PO Box 218