Minnesota's Historic Northwest: Design, Fabrication, and Installation of Fur Trade Traveling Exhibit
Project Details by Fiscal Year
2017 Fiscal Year Funding Amount
$94,718
Fund Source
Arts & Cultural Heritage Fund
Recipient
Minnesota's Historic Northwest
Recipient Type
Non-Profit Business/Entity
Counties Affected
Becker
Beltrami
Clearwater
Kittson
Lake of the Woods
Mahnomen
Marshall
Norman
Pennington
Polk
Red Lake
Roseau
Project Overview
To hire qualified consultants to develop a traveling exhibit on the fur trade in northwest Minnesota.
Project Details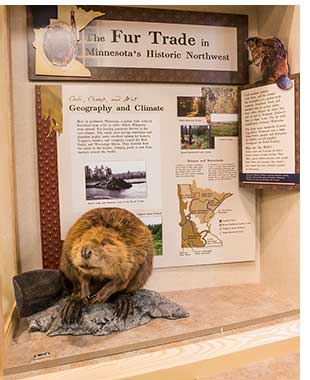 The Minnesota's Historic Northwest group was granted funding for the construction of a 15-piece traveling exhibit, with each piece telling a different story from Minnesota's fur-trading past. This project was a culmination of previous grant projects, which encompassed the research and writing of the exhibit.

The Historic Northwest group hopes to tell the story of historic Minnesota's most important economic driver to a public that they say knows little about it-- having not heard from county historical societies, given that the fur trade's heyday came and went before many counties and their historical societies were established. This will help to advance the group's mission to "discover and disseminate [local] history," as well as providing the public with a better understanding of their heritage.
Competitive Grant Making Body
Project Details: 2017 Fiscal Year
2017 Fiscal Year Funding Amount
$94,718
Number of full time equivalents funded
0
Proposed Measurable Outcome(s)
Source of Additional Funds
Recipient Board Members
Solveig Kitchell, Tamara Edevold, Dean Vikan, Cindy Adams, Britt Dahl
Project Manager
Organization Name
Minnesota's Historic Northwest
Street Address
412 Geary Avenue NE