The International Institute of Minnesota 100th Anniversary Exhibit (1919-2019)
Project Details by Fiscal Year
2019 Fiscal Year Funding Amount
$9,315
Fund Source
Arts & Cultural Heritage Fund
Recipient
International Institute of Minnesota
Recipient Type
Non-Profit Business/Entity
Start Date
September 2018
Project Details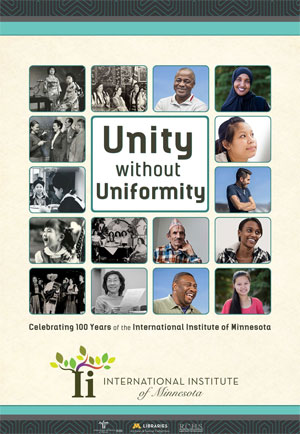 The 14 unique panels tell the story of the Institute's history while showing the demographic changes that occurred within Minnesota's immigrant communities during that time. The exhibit, titled: Unity Without Uniformity Celebrating 100 years of the International Institute of Minnesota was installed by the Ramsey County Historical Society on March 11, 2019 at the historical society's exhibit space in the Landmark Center.
The Institute utilized the exhibit panels to inspire content to promote its anniversary on December 12, 2019. The exhibit will be used as a whole, or segmented by panel, in the day-to-day work of the nonprofit organization. The exhibit was the impetus to capture stories from the organizations 100 years that celebrates the mission and impact of the organization. It also educates its audience about immigration to Minnesota in that 100 year time span. Thousands of individuals unfamiliar with the Institute's mission will view the exhibit on display in the two public locations.
Competitive Grant Making Body
Board Members and Qualifications
Visit https://www.mnhs.org/about/leadership
Advisory Group Members and Qualifications
Visit https://www.mnhs.org/preservation/legacy-grants/advisory-committee
Project Details: 2019 Fiscal Year
Legal Citation / Subdivision
MN Laws 2017 Chapter 91, Article 4, Section 2, Subdivision 4 Historical Grants and Programs
Appropriation Language
$4,500,000 the first year and $6,500,000 the second year are for history programs and projects operated or conducted by or through local, county, regional, or other historical or cultural organizations or for activities to preserve significant historic and cultural resources. Funds are to be distributed through a competitive grant process. The Minnesota Historical Society must administer these funds using established grant mechanisms, with assistance from the advisory committee created under Laws 2009, chapter 172, article 4, section 2, subdivision 4, paragraph (b), item (ii).
2019 Fiscal Year Funding Amount
$9,315
Other Funds Leveraged
$5,720
Number of full time equivalents funded
Proposed Measurable Outcome(s)
Source of Additional Funds
Recipient Board Members
Victor Cedeno, June Cheng, Dave DePaepe, Kitty Gogins, Charles Horwitz, Jon Justin, Mark Kalla, Jeff Mandel, Mary Miklethun, Carolyn Nestingen, Jerry Nolte, Elaine Olson, Aydurus Osman, Glen Skovholt, Kate Tilney
Project Manager
Organization Name
International Institute of Minnesota
Street Address
1694 Como Ave