Install Light-Blocking Shades on Windows in Three Museum Buildings
Project Details by Fiscal Year
2018 Fiscal Year Funding Amount
$3,000
Fund Source
Arts & Cultural Heritage Fund
Recipient
Lincoln County Historical Society
Recipient Type
Non-Profit Business/Entity
Start Date
September 2017
Project Details: 2018 Fiscal Year
2018 Fiscal Year Funding Amount
$3,000
Number of full time equivalents funded
0
Proposed Measurable Outcome(s)
Source of Additional Funds
Recipient Board Members
Kate Aydin, Bernie Aronson, Rolland Digre, Roger Hexem, Dean Janiszeski, Lyndon Johnson, Gail Kvernmo, Orlan Sandro, Marc Widmark
Project Overview
To hire a qualified professional to install light-blocking shades on museum windows in order to provide better storage and exhibit conditions for the artifacts. .
Project Details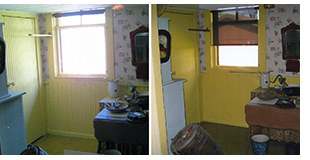 Adopting a recommendation from a previous grant project, light-reducing shades were installed on 23 windows and doors in 3 exhibit buildings having the most light-sensitive artifacts. Additionally, UV-reducing film was installed on 4 transom windows in the 115-year old Depot Building. These windows were not amenable to roll-up shades. All other windows in the Depot were considered too fragile and not suitable for applying UV film, but amenable to light-reducing shades.
Many artifacts are clothing, other fabrics, quilts, photos, books, newspapers, and so on. Protection of these artifacts helps ensure continuing preservation of displays for museum visitors and documentation for reference users, including school, civic, and genealogical groups.
Project Manager
Organization Name
Lincoln County Historical Society
Street Address
P.O Box 211, 610 Elm St.
Competitive Grant Making Body