Holodomor Impact on Minnesota's Ukrainian Community: Oral History
Project Details by Fiscal Year
2019 Fiscal Year Funding Amount
$9,600
Fund Source
Arts & Cultural Heritage Fund
Recipient
Ukrainian American Community Center
Recipient Type
Non-Profit Business/Entity
Start Date
September 2018
Counties Affected
Hennepin
Ramsey
Statewide
Project Details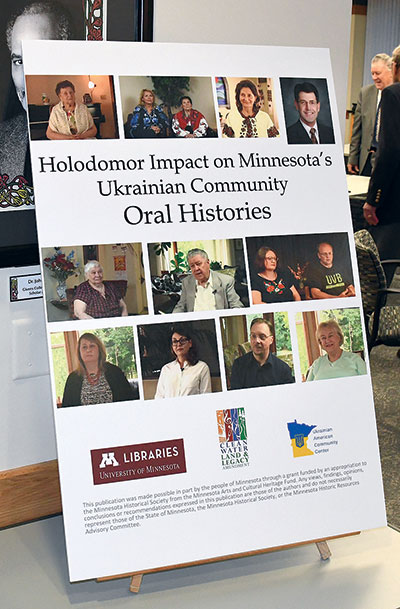 11 oral history interviews were collected, transcribed and translated (when needed) on the topic of the Holodomor of 1932-33 and its lasting impact on Minnesota's Ukrainian-American community. The interview subjects included three Holodomor survivors, eight children or grandchildren of survivors, and two commemoration leaders. Individually the stories are fascinating and a testament to the human spirit to survive even the most adverse circumstances. Taken together, they paint a picture of the Displaced Persons who arrived in Minnesota after World War II and immediately set to work to build churches, choirs, youth groups and other lasting Ukrainian-American institutions.
Competitive Grant Making Body
Board Members and Qualifications
Visit https://www.mnhs.org/about/leadership
Advisory Group Members and Qualifications
Visit https://www.mnhs.org/preservation/legacy-grants/advisory-committee
Project Details: 2019 Fiscal Year
Legal Citation / Subdivision
MN Laws 2017 Chapter 91, Article 4, Section 2, Subdivision 4 Historical Grants and Programs
Appropriation Language
$4,500,000 the first year and $6,500,000 the second year are for history programs and projects operated or conducted by or through local, county, regional, or other historical or cultural organizations or for activities to preserve significant historic and cultural resources. Funds are to be distributed through a competitive grant process. The Minnesota Historical Society must administer these funds using established grant mechanisms, with assistance from the advisory committee created under Laws 2009, chapter 172, article 4, section 2, subdivision 4, paragraph (b), item (ii).
2019 Fiscal Year Funding Amount
$9,600
Other Funds Leveraged
$238
Number of full time equivalents funded
Proposed Measurable Outcome(s)
Measurable Outcome(s)
Short term measurable outcome has been achieved. The primary measurable outcome is the transcripts with secondary outcomes being the questions list and newly accessed documents and images. The transcripts with a subset of accessed images have been uploaded. We also identified and referenced anniversary church books with member bios, family photo albums with rare photos, and received written life stories from a few individuals who wanted to participate in the project but did not feel up to an interview.
Medium term measurable outcome is on target to be achieved and exceeded. The medium term outcome is presentation of oral histories and key findings at a UACC-sponsored event and partnering with organizations around the state to accept a copy of the oral histories for their public archives. Project director Zina Gutmanis will present her experiences with this project at a national Holodomor Forum in Philadelphia on October 6; hopefully her remarks will spark interest and engagement with other Ukrainian American communities and institutions. The transfer of the video and written files to the University of Minnesota will take place at a reception/ceremony being sponsored by the U of M on November 20. Project participants and key organizations for partnering will be invited.
Source of Additional Funds
Recipient Board Members
Paul Jablonsky - President, Sergiy Kalmuk - Vice President, Maria Sheremeta - 2nd Vice President, Paula Cayemberg - Secretary, Natalia Peterson - Assistant Secretary, Taras Pidhayny - Executive Director, Stepan Vitvitsky - Treasurer, Luda Anastazievsky, Bob Iwaskewycz, Sasha Komarenko, Zina Gutmanis, Bob Kuczwarskyj, Julian Pishko, Mykola Sarazhynskyy
Project Manager
Organization Name
Ukrainian American Community Center
Street Address
301 Main St. NE
Email
zinapoletz@gmail.com