Historical Signs on Ely's Iron Ore Mines
Project Details by Fiscal Year
2014 Fiscal Year Funding Amount
$10,000
Fund Source
Arts & Cultural Heritage Fund
Recipient
Ely Greenstone Public Art Committee
Recipient Type
Non-Profit Business/Entity
Project Details: 2014 Fiscal Year
Legal Citation / Subdivision
Laws of Minnesota for 2011 Chapter 6, Article 4, Subdivision 5, Statewide Historic and Cultural Grants.
Appropriation Language
Statewide Historic and Cultural Grants. $5,250,000 the first year and $5,250,000 the second year are for history programs and projects operated or conducted by or through local, county, regional, or other historical or cultural organizations; or for activities to preserve significant historic and cultural resources.
2014 Fiscal Year Funding Amount
$10,000
Recipient Board Members
Daina Antanitis, Dafne Caruso, Susan Cherne, Bill Defenbaugh, Liz Schendel, Mike Sinesio, Trudy Staubitz, Anne Swenson
Project Overview
To install interpretive signs containing the history of mining in the Ely area.
Project Details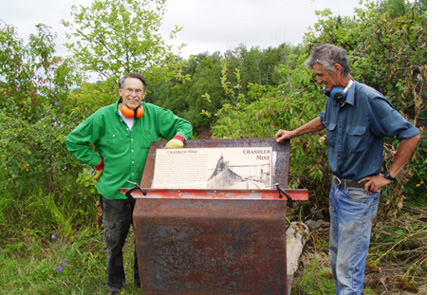 The grant included the production and placement of historical signs identifying former iron mining sites around Trezona Trail in Ely, including the sign which designates Pioneer Mine as on the National Historic Register.
The  Pioneer Mine complex closed in 1967, and was placed on the National Register of Historic Places in 1978, and was used for storage by the City, a repair shop for snowmobiles and ultimately abandoned. In the mid-1990s, the Shaft House and Miners Dry House were renovated. Again the 6.5-acre area was later abandoned and subject to vandalism. Greenstone was granted a contract with the City in 2011 to manage the mine site and became aware of how little was known by the public of the historical significance of Ely mines. The signage and core are to help fill that gap with the goal of making the public aware and proud of iron ore mining's importance to the city and its growth and how that impacted the building of America and two world wars.
By identifying Pioneer Mine as on the Historic Register with a sign, it will continue to draw attention to this imposing head frame structure. 
Project Manager
Organization Name
Ely Greenstone Public Art Committee
Street Address
401 North Pioneer Road
Competitive Grant Making Body
Board Members and Qualifications
Minnesota Historical Society Governing Board: William R. Stoeri, President Missy S. Thompson, Vice President Ruth Huss, Vice President D. Stephen Elliott, Secretary Dean M. Nelson, Treasurer Suzanne Blue Brenda J. Child Robert Bruininks Judith S. Corson D. Stephen Elliott Phyllis Rawls Goff William D. Green David R. Hakensen Ruth S. Huss Martha Kaemmer Dennis L. Lamkin David M. Larson Charles Mahar Dean M. Nelson Elizabeth M. Nordlie Dennis Nguyen Peter R. Reis Hussein Samatar Simon Stevens Susan Kenny Stevens William R. Stoeri Karen Wilson Thissen Missy Staples Thompson Eleanor Winston Ex-Officio: Mark Dayton, Governor Yvonne Prattner Solon Lieutenant Governor Mark Ritchie, Secretary of State Lori Swanson, Attorney General Rebecca Otto, State Auditor
Advisory Group Members and Qualifications
Historic Resources Advisory Committee Mark Peterson, Winona (Chair) - Executive Director, Winona County Historical Society - Governor's appointee to Minnesota Sesquicentennial and Minnesota Humanities Commissions - Qualified in history, historic preservation and history museum administration Leanne Brown, Eden Prairie - Director of Development, Carver County Library/Library Foundation - Formerly, Executive Director, Carver County Historical Society - Qualified in history, project management and museum studies Jack Byers, Minneapolis - Manager, Minneapolis Community Planning and Economic Development Department (CPED) - Manages CPED's Preservation and Design Section - Qualified in historic preservation, architecture, urban geography and planning Tamara Edevold, Bagley - Executive Director, Clearwater County Historical Society - Active in Minnesota's Historic Northwest, regional historical organization - Qualified in history, archaeology, anthropology and history museum administration Ram Gada, Eden Prairie - Engineer - Active in the documentation of Minnesota's East Indian community - State Historical Records Advisory Board (SHRAB), former member - Qualified in engineering, energy consulting and grants administration William Latady, Tower - Bois Forte Deputy Tribal Historic Preservation Officer - Curator, Bois Forte Heritage Museum - Qualified in archaeology, anthropology, historic preservation and history museum administration Benjamin Vander Kooi, Luverne - Attorney practicing as Vander Kooi Law Offices, P.A., in Luverne, MN - Active in Vote Yes! Campaign - Past chair, MN State Arts Board - Advisor, National Trust for Historic Preservation - Qualified in historic preservation, nonprofit and grants administration Brenda Child, Minneapolis - Chair, Department of American Indian Studies, University of Minnesota - Enrolled member, Red Lake Nation - Qualified in history, American Studies and American Indian Studies Nicole Foss, Bemidji - Executive Director, Beltrami County Historical Society, Bemidji, MN - Qualified in anthropology, historical archaeology, library and museum fields Kris Kiesling, Roseville - Director of Archives and Special Collections at University of MN Libraries - State Historical Records Advisory Board (SHRAB) member - Qualified in library and archives, digital services and history Jan Louwagie, Marshall - Coordinator, Southwest Minnesota Regional Research Center, Southwest Minnesota State University - Founding member of Society for the Study of Local and Regional History - Former member of State Historical Records Advisory Board (SHRAB) - Qualified in history and archival administration Ann Meline, Saint Cloud - Deputy Director, Stearns History Museum, St. Cloud - Formerly Assistant Director/Public Programs managing Exhibits, Collections and Education Departments - Former grant reviewer for Institute of Museum and Library Services - Qualified in history, nonprofit and museum administration Peter Reis, White Bear Lake - President, White Bear Lake Area Historical Society - Chair, Minnesota Historical Society's Grants Review Committee - Qualified in history and nonprofit and grants administration William Stoeri, Minneapolis - Ex-officio member (president of the MHS Board) Missy Staples Thompson, Saint Paul - Ex-officio member (treasurer of the MHS Board)