Highland Park Tower Repairs
Project Details by Fiscal Year
2019 Fiscal Year Funding Amount
$250,000
Fund Source
Arts & Cultural Heritage Fund
Recipient
Board of Water Commissioners of the City of Saint Paul
Recipient Type
Local/Regional Government
Project Details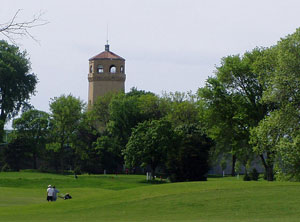 The Highland Park Water Tower was built in 1928 and is on the National Register of Historic Places. As described in the National Register Nomination Form, the tower, located in a park at the second-highest point in the city, provides a dramatic, panoramic view of the surrounding area. As the city's only architecturally significant water tower, it was designated an American Water Landmark by the American Water Works Association in 1981. In addition, the Highland Park tower is historically significant as an important design by one of St. Paul's few known black architects, Clarence W. Wigington.
Roof, window, joint, and drain repairs limit water damage and deterioration of the tower and have made the tower closer to a self-sustaining building. New stone, brick, paint, concrete, mortar, railings, sealants, and washing the tower make it look that much more beautiful. The doors and locks operate much smoother and more accessible. The observation deck bird netting keeps out birds and rolls up easily to provide clear views when the tower is open to the public. The tower is safer and more accessible with these improvements.
Competitive Grant Making Body
Board Members and Qualifications
Visit https://www.mnhs.org/about/leadership
Advisory Group Members and Qualifications
Visit https://www.mnhs.org/preservation/legacy-grants/advisory-committee
Project Details: 2019 Fiscal Year
Legal Citation / Subdivision
MN Laws 2017 Chapter 91, Article 4, Section 2, Subdivision 4 Historical Grants and Programs
Appropriation Language
$4,500,000 the first year and $6,500,000 the second year are for history programs and projects operated or conducted by or through local, county, regional, or other historical or cultural organizations or for activities to preserve significant historic and cultural resources. Funds are to be distributed through a competitive grant process. The Minnesota Historical Society must administer these funds using established grant mechanisms, with assistance from the advisory committee created under Laws 2009, chapter 172, article 4, section 2, subdivision 4, paragraph (b), item (ii).
2019 Fiscal Year Funding Amount
$250,000
Other Funds Leveraged
$224,000
Number of full time equivalents funded
Proposed Measurable Outcome(s)
Source of Additional Funds
Recipient Board Members
President of the Board of Water Commissioners Matt Anfang ? St. Paul Citizen,
Vice President Amy Brendmoen ? St. Paul City Council,
Commissioners:
Rebecca Noecker ? St. Paul City Council,
Chris Tolbert ? St. Paul City Council,
Will Rossbach ? Suburban Representative,
Jeffrey Dains ? Suburban Representative,
Mara Humphrey ? St. Paul Citizen
Project Manager
Organization Name
Board of Water Commissioners of the City of Saint Paul
Street Address
1900 Rice St
Email
tim.bagstad@ci.stpaul.mn.us