HCOC Lighting Project
Project Details by Fiscal Year
2021 Fiscal Year Funding Amount
$159,164
Fund Source
Arts & Cultural Heritage Fund
Recipient
Olmsted County Historical Society
Recipient Type
Non-Profit Business/Entity
Project Details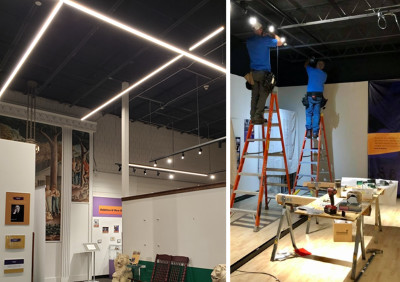 New lights and fixtures were installed in the museum. The lights were installed in the various rooms as identified from a museum lighting redesign planned in 2019. All the lights and fixtures installed are LED lights, with a number of them having dimming capability and motion sensors. Additional UV window film was added where needed in the museum to address the natural light coming into the building. A black-out curtain was also installed to block all-natural light from entering the museum when the museum is closed. One of the biggest challenges a museum faces is preservation vs. access; trying to preserve artifacts and history for the future while at the same time allowing visitors to interact with their history. This project helps the museum achieve a better balance.
Competitive Grant Making Body
Board Members and Qualifications
Visit https://www.mnhs.org/about/leadership
Advisory Group Members and Qualifications
Visit https://www.mnhs.org/preservation/legacy-grants/advisory-committee
Project Details: 2021 Fiscal Year
Legal Citation / Subdivision
MN Laws 2019 Special Session Chapter 2, Article 4, Section 2, Subdivision 4 History Partnerships
Appropriation Language
$2,500,000 each year is for history partnerships involving multiple organizations, which may include the Minnesota Historical Society, to preserve and enhance access to Minnesota's history and cultural heritage in all regions of the state.
2021 Fiscal Year Funding Amount
$159,164
Other Funds Leveraged
$12,200
Number of full time equivalents funded
0
Proposed Measurable Outcome(s)
Source of Additional Funds
Recipient Board Members
Eric Andringa, Susan Claypool, Sam Gill, Roger Stahl, Mark Thein, Linda Willihnganz, Doug Boese, Daniel Dogo-Esekie, Jennifer Janvrin, Tom Leimer, Andrew Coenen, Christine Rule, Kirk Schumacher,
Project Manager
Organization Name
Olmsted County Historical Society
Street Address
1195 West Circle Drive SW
Email
registrar@olmstedhistory.com