Downtown Chisholm Historic Signage
Project Details by Fiscal Year
2017 Fiscal Year Funding Amount
$8,725
Fund Source
Arts & Cultural Heritage Fund
Recipient
Chisholm Kids Plus
Recipient Type
Non-Profit Business/Entity
Project Details: 2017 Fiscal Year
2017 Fiscal Year Funding Amount
$8,725
Number of full time equivalents funded
0
Proposed Measurable Outcome(s)
Source of Additional Funds
Recipient Board Members
Vern Manner, Mark Wangensteen, Steve Cook, Jim Varda, Alida Casey
Project Overview
To design, produce, and install 9 historical markers in the City of Chisholm.
Project Details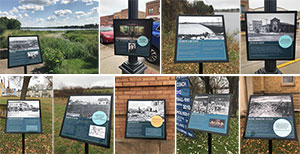 The project designed, fabricated, and installed nine historic panels around downtown Chisholm and the Longyear Lake bike path. The nine historic panels will cover the following topics: a general introductory panel, baseball in early Iron Range life, the 1908 Chisholm Fire, Chisholm Olympians, Veda Ponikvar, the Chisholm Library, the Land Bridge, the Mesabi Range trolley system, and the Monroe Location. The project also funded the printing and installation of 20 historic images in several downtown storefronts.
 
These signs provide various entry points for people of all ages and backgrounds to enjoy some local history and learn something new in a quick, succinct way. The metal frame that we used will also allow for refreshing of the content and provide new stories down the road. These historical signs have added additional value to the historic downtown corridor and have been a great feature in the efforts to revitalize their communities main street while also paying homage to residents of the past.
Project Manager
Organization Name
Chisholm Kids Plus
Street Address
301 Fourth Street SW
Competitive Grant Making Body