Digital Conversion of Cable Arts Consortium Video Collection 1983-1991
Project Details by Fiscal Year
2021 Fiscal Year Funding Amount
$9,925
Fund Source
Arts & Cultural Heritage Fund
Recipient
Minnesota Media Arts
Recipient Type
Non-Profit Business/Entity
Counties Affected
Anoka
Carver
Dakota
Hennepin
Ramsey
Scott
Washington
Project Details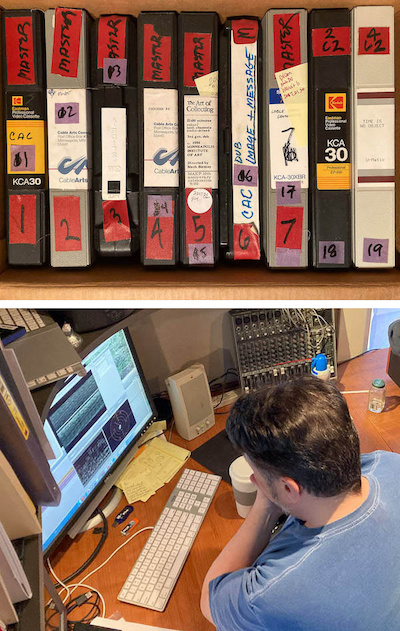 Minnesota Media Arts converted analog videotapes to digital media for approximately 60 programs compiled and collected by the Cable Arts Consortium between 1993 and 1991.
The grant project resulted in the creation of digitized video and audio files from more than a decade of Cable Arts Consortium programming and collecting of arts and culture video programs. These programs were assembled from Minnesota arts and cultural organizations, artists and film & video makers, and are now preserved for historical, educational, and research purposes. The digitized files will be available through the MNMA archive, controlled access to online videos available for researchers, and a finding aid on their website. The finding aid, and its additional content descriptive metadata will be searchable by our potential audience of scholars, students, architects, preservationists, and other interested parties. Because of the digital conversion, this valuable arts and cultural resource will be preserved and available for long-term use.
Competitive Grant Making Body
Board Members and Qualifications
Visit https://www.mnhs.org/about/leadership
Advisory Group Members and Qualifications
Visit https://www.mnhs.org/preservation/legacy-grants/advisory-committee
Project Details: 2021 Fiscal Year
Legal Citation / Subdivision
MN Laws 2019 Special Session Chapter 2, Article 4, Section 2, Subdivision 4 History Partnerships
Appropriation Language
$2,500,000 each year is for history partnerships involving multiple organizations, which may include the Minnesota Historical Society, to preserve and enhance access to Minnesota's history and cultural heritage in all regions of the state.
2021 Fiscal Year Funding Amount
$9,925
Other Funds Leveraged
$2,500
Number of full time equivalents funded
0
Proposed Measurable Outcome(s)
Source of Additional Funds
Recipient Board Members
Mark Stanley, James Malec, Ron McCoy
Project Manager
Organization Name
Minnesota Media Arts
Street Address
641 Fairview Ave. N, Studio #191
Email
markstanley@mnmediaarts.org