Complete Cataloging of Archival Collection
Project Details by Fiscal Year
2018 Fiscal Year Funding Amount
$20,950
Fund Source
Arts & Cultural Heritage Fund
Recipient
Golden Valley Historical Society
Recipient Type
Non-Profit Business/Entity
Project Details: 2018 Fiscal Year
2018 Fiscal Year Funding Amount
$20,950
Number of full time equivalents funded
0
Proposed Measurable Outcome(s)
Source of Additional Funds
Recipient Board Members
Don Anderson (Secretary), Nancy Azzam, Kenneth Huber (President), Nancy Kochenderfer, David Kuball (Treasurer), Jenny Murray-Brookins, Steve Schmidgall (Vice-President, Golden Valley city councilmember)
Project Overview
To hire a qualified professional to process the archival collections held by Golden Valley Historical Society.
Project Details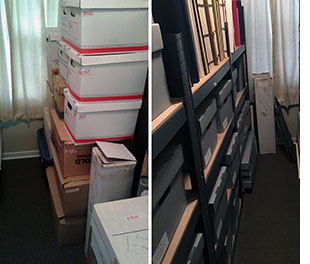 The Golden Valley Historical Society received a grant to fully catalog their archives, which include more than 90 cubic feet of boxes filled with papers. Though the GVHS has been collecting artifacts and documents since 1974, they have no professional staff and have never conducted a full inventory of their collections up until this point.
This project included going through all of the materials in their archives, cataloging them with industry-standard archival software, and taking measures to preserve them properly, such as moving papers from plain boxes to archival-quality acid-free ones. This project is ongoing--in the future, the GVHS hopes to be able to digitize their collections so that they are even more accessible to volunteers and community members alike.
Project Manager
Organization Name
Golden Valley Historical Society
Street Address
7800 Golden Valley Road
Email
crystal.boyd@colorado.edu
Competitive Grant Making Body