Archival Inventory Project
Project Details by Fiscal Year
2017 Fiscal Year Funding Amount
$93,000
Fund Source
Arts & Cultural Heritage Fund
Recipient
Stearns History Museum
Recipient Type
Non-Profit Business/Entity
Counties Affected
Benton
Morrison
Sherburne
Stearns
Project Overview
To provide better organization of the museum's archival collections, allowing for greater public access to the community's historic resources.
Project Details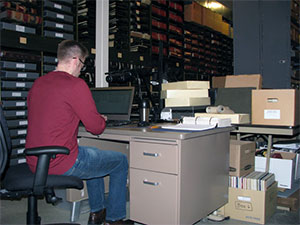 The Stearns History Museum (SHM) was founded in 1936 and began collecting 3D objects and 2D archival materials that same year. Throughout SHM's history, an inventory of the archival holdings has never been completed. The Archival Inventory Project had five main goals. First, the inventory provided an overview of their holdings in greater detail. Second, it identifed gaps in the collection. Third, the project maximized limited resources for collections care by identifying materials in need of conservation. Fourth, ensure staff can better utilize the holdings for exhibitions, programs, and outreach. Finally, the inventory allows for improved access to the collections by staff and the audiences they serve.
They now have a current list of every archival item or folder level in regards to the most recently processed materials. This will benefit researchers, staff, genealogists, and students who visit SHM. Their ability to process new collections has improved by utilizing their recently created manual and spreadsheets. These successes will only assist our efforts to select a new catalog software that benefits not only present users but those in the future.
Competitive Grant Making Body
Project Details: 2017 Fiscal Year
2017 Fiscal Year Funding Amount
$93,000
Number of full time equivalents funded
2.6
Proposed Measurable Outcome(s)
Source of Additional Funds
Recipient Board Members
Jon McGee--chair, Tom Mathews--vice chair, Pat Webber--secretary, Phil Terry--treasurer, Annette Atkins--director, Joe Bayer--director, Bill Carlin--director, Barb Carlson--director, Dennis Gregory--director, Cathy Mehelich--director, Mark Muniz--director, Bruce Skalbeck--director, Dan Tideman--director, Ex Officio Members: Jeff Mergen--Stearns County Commissioner, Jim Davis--CEO, Ann Meline--COO
Project Manager
Organization Name
Stearns History Museum
Street Address
235 33rd Avenue South
Email
spenick@stearns-museum.org