3D Inventory
Project Details by Fiscal Year
2018 Fiscal Year Funding Amount
$97,224
Fund Source
Arts & Cultural Heritage Fund
Recipient
Carver County Historical Society
Recipient Type
Non-Profit Business/Entity
Project Details: 2018 Fiscal Year
2018 Fiscal Year Funding Amount
$97,224
Number of full time equivalents funded
2.31
Proposed Measurable Outcome(s)
Source of Additional Funds
Recipient Board Members
Peter Gustafson, Darlene Fasching, Lin Deardorff, Matthew McDougall, Mike Coleman, Dan Lund, Mike Fahey, Burton Johnson, Maureen Farrell, Gerry Johnson, Mark Willems, Randy Maluchnik
Project Overview
To provide better organization of the museum collections, allowing for greater public access to the community's historic resources.
Project Details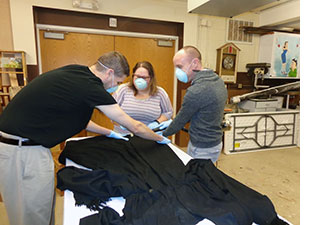 The Carver County Historical Society was issued funding for a complete inventory of their 3D (artifacts other than paper or digital material) objects collection. Each of the over 13,500 items in the collection was carefully cataloged, including approximately 1,500 items that had not been properly recorded before.
Because of this undertaking, the Carver County Historical Society now has an improved understanding of the contents of its own collection, including under- and over-represented areas. Storage space may now be used more efficiently, and decisions about additions to the collection may be made with full understanding of what is already there. Perhaps the greatest benefit, however, is that the collection has become more accessible to CCHS employees and researchers alike.
Project Manager
Organization Name
Carver County Historical Society
Street Address
555 West First Street
Email
asmith@co.carver.mn.us
Competitive Grant Making Body